New Year brings new changes to RedHub
Friday 13th January 2017
RedHub is excited about the New Year and we are planning on making some big improvements to RedHub this year. We're kicking off 2017 by adding Access Control to RedHub and renaming Disciplines to Categories.
Access Control in RedHub allows you to control which documents each user will see on your project. Access to documents is managed by groups of users that you will assign.
Is Access Control enabled for my project?
Access Control will be enabled automatically for any new project, for existing projects you will need to contact us to request a project conversion and we assit you in the upgrade.
Restricted Document Access is no longer needed with Access Control. You can create an access group to provide the same functionality with more control.
Managing Access Groups

Manage access groups for your project by navigating to User Access > Access Groups. This will show any existing groups for the current project, every new project has a Default group, feel free to change it.
From here you can create new access groups or manage existing ones. Each access group consists of categories, users and settings.
Access Group Categories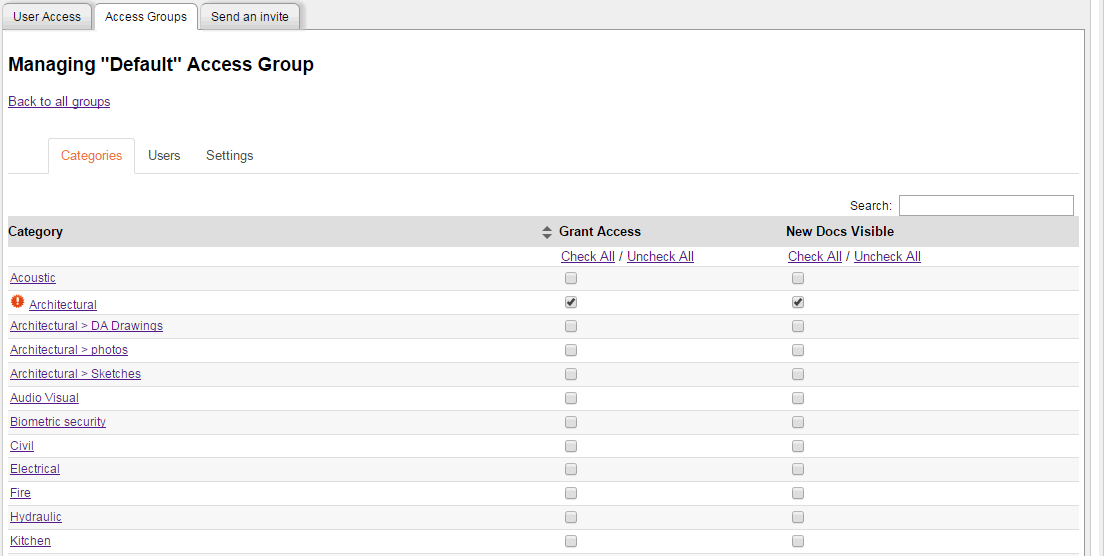 Assigning categories to an access group determines which documents are visible to users assigned to the group. Documents belonging to categories are automatically visible. It is also possible to restrict the access of existing documents within a category if required.
Access Group Users

Access group users will see the documents belonging to the categories assigned. Users can belong to more than one access group. If you no longer want a user to be part of an access group you can simply remove the user, they will still be members of your poject and any other access groups they are assigned to.
Access Group Settings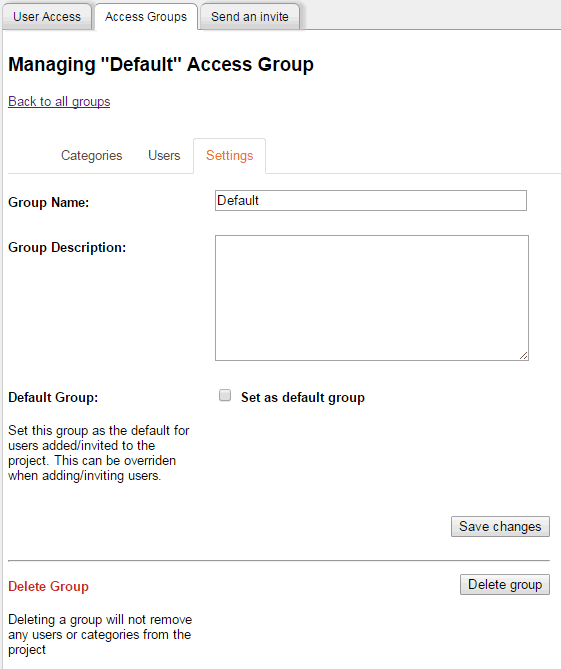 Access group settings allow you to change the name, provide a description and set the group as the new default. Setting the group as the new default will automatically select it when adding or inviting new users to your project.
If you have no further need for the access group you can delete it from this screen, any users or categories assigned will remain after the deletion.
If you would like to enable Access Control on your projects please submit a support enquiry or call RedHub on 1300 88 57 59.
From the team at RedHub we wish you a Happy New Year.